Back to Arts and Culture
Dear Norman Friends
Firstly, I hope you and your loved ones are safe and well.
For many of you, our Norman journey together started exactly 6 years ago today and for others, more recently. It's certainly been an exciting, challenging and fruitful journey so far.
However, the current situation has brought challenges and for many, much uncertainty. The inability to travel freely, visit family and dear friends are surely the biggest challenges of all. We are living in uncertain times, but at The Norman at least, remain optimistic and look forward to better times ahead.
Since The Norman first opened its doors in 2014, we have had the honour of hosting thousands of wonderful guests from across the globe, many of whom have become treasured, loyal members of The Norman family. It is these long-lasting relationships that remain the foundation stone of The Norman.
Certainly, these relationships are strengthened by a dedicated team. Over the years, we have made a commitment to training and developing many young and talented people whom I am proud to count among The Norman alumni, and many of whom who are already well on their way to becoming the next generation of hospitality leaders.
Additionally, we have been blessed with a number of equally dedicated partners, most of whom have been working with us since the pre-opening days. So it's clear to me that The Norman is very much all about the guests that visit us, and the people – some of whom are behind the scenes – that make it happen!
On March 15th 2020, The Norman was forced to close its doors because of the pandemic. From that day on, I made the decision to see the pause as an opportunity. The chance to make improvements we'd talked about for so long, but hadn't previously had the opportunity to action.
We immediately began a major project to improve all our facilities; the back of house, Alena & Dinings, our kitchens, the guests rooms and public areas.
We continued to keep our gardens immaculate, set about developing new COVID-19 standards and procedures, kept in close contact with our team, often re-grouping to work together to help the wider community and deliver donations to charitable organizations. We also set a new re-opening date which, disappointingly we had to be postpone for the safety of the team and our guests alike. I look forward to the day I can announce our reopening date.
During this difficult time, our amazing team, partners and myself have adapted to this situation as best as we can. We endeavour to support all the employees we had no choice but to release from their duties. Where we can, we have re-allocated staff into different positions enabling them to help us make sure the hotel in a pristine condition with the best possible atmosphere – as soon as the current restrictions are lifted.
I'm proud and honoured to have been given the opportunity to manage The Norman Tel Aviv, an establishment that has become, in a relatively short time, such an iconic hotel in Israel and around the world.
We are all in this together and I know that there is a brighter and shinier future around the corner. In the meantime, I hope you will enjoy our first edition of our new Norman Friends newsletter.
It has been inspired by many of you, guests, associates and friends who have been in touch via email, WhatsApp, social media and in person. We want to share with you the wonderful stories that continue to unfold behind closed doors, experiences that have made The Norman's last 6 years so magical and some of the exciting news behind the scenes.
I'm looking forward to warmly welcoming you all back again very soon. In the meantime, please feel free to send me any questions or ideas you may have, stories and experiences you would like us to share.
Eating and Drinking
Wine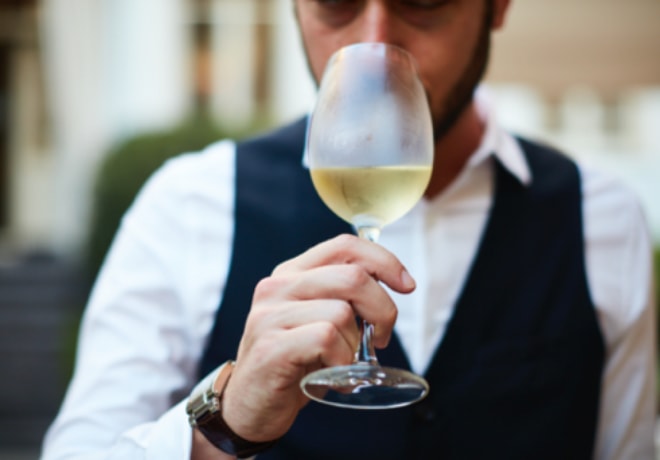 New Wines on the List
For the past year we were working on developing 2 new stunning wines; a new vintage to add to our well celebrated Alena rosé and a brand new white wine. Both wines have been made from grapes grown in the north of Israel and produced in collaboration with Amphorae winemakers.
The 2019 rosé is our third vintage and with the fruit this year having been harvested a little earlier than usual – this vintage has a higher acidity and less sugar content. A pale salmon colour, this wine has light notes of delicate peach and strawberry.
This year we grew our collection and produced our first Alena blanc, a blend of Grenache blanc, Semillon and Roussanne. The wine is a limited edition, with only 600 bottles that will be sold exclusively in Alena restaurant. Blended to perfectly complement Barak Aharoni's new menu for Alena, and to work as an aperitif to be enjoyed at The Library Bar or by the pool.
Food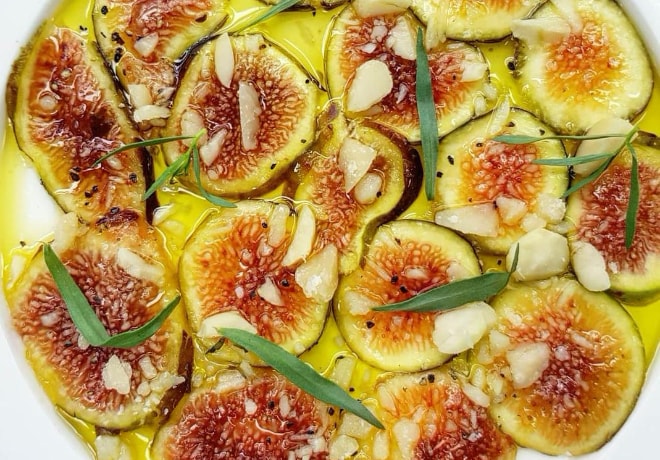 Barak's Fig Carpaccio Recipe
Grown all over the country and celebrated as one of the 'seven species' in the 1st testament, the fig tree is in many ways emblematic of Israel. With this incredibly versatile fruit well suited to both sweet and savoury, hot and cold dishes, fig season is always cheerfully welcomed. Chef Barak Aharoni of Alena restaurant is committed to using seasonal produce in his no-nonsense approach to food that let the ingredients speak for themselves.
Fig Carpaccio
Ingredients:
3-4 ripe figs / 4 macadamia nuts chopped small / 3 tbsp olive oil / Salt & pepper / ½ a green chilli pepper sliced into thin rings / 7-8 tarragon leaves / Parmesan shavings
Making the dish
Slice the figs into discs (about ½ a cm thick)
Arrange the figs on the plate. Drizzle the olive oil over the figs, followed by salt & pepper
Add the green chili, followed by the tarragon leaves. Sprinkle the nuts, followed by the parmesan
At the Norman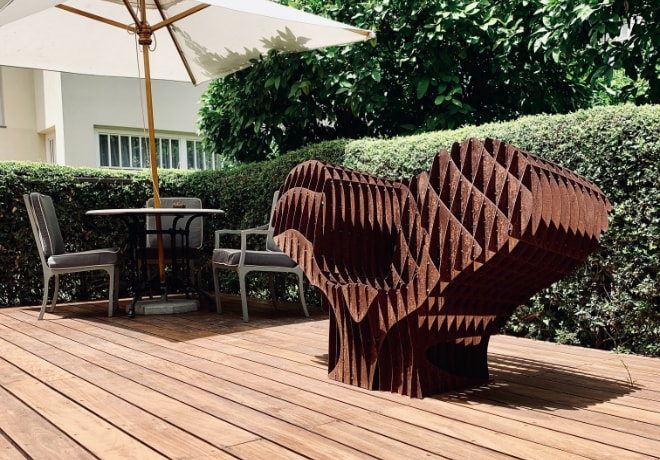 New Art at the Norman
Under the direction of London based art consultant Robin Greene, The Norman art collection has grown and evolved with a host of pieces that have enhanced the character of familiar public spaces around the hotel. We are delighted to have a stunning hand embroidered piece, from Orit Fuchs' VIVID series on our first floor overlooking the atrium. In keeping with the unifying theme of our collection – Orit Fuchs is an Israeli artist, living and working in Tel Aviv. Fuchs' work spans all mediums, including sculpture, painting, typography, graphic design, illustration, knitting, embroidery, photography and much more. With a background working as an art director at some of the most cutting edge ad agencies in Israel, her work captures a distinct pop culture spirit of the age.
Her VIVID series evokes the many aspects of the feminine experience delivered with an unmistakeable cinematic quality. The meticulously embroidered portrait in our collection is a fitting addition to a hotel that seeks to deliver a classic service style of yesteryear while allowing the guests the freedom to truly be themselves.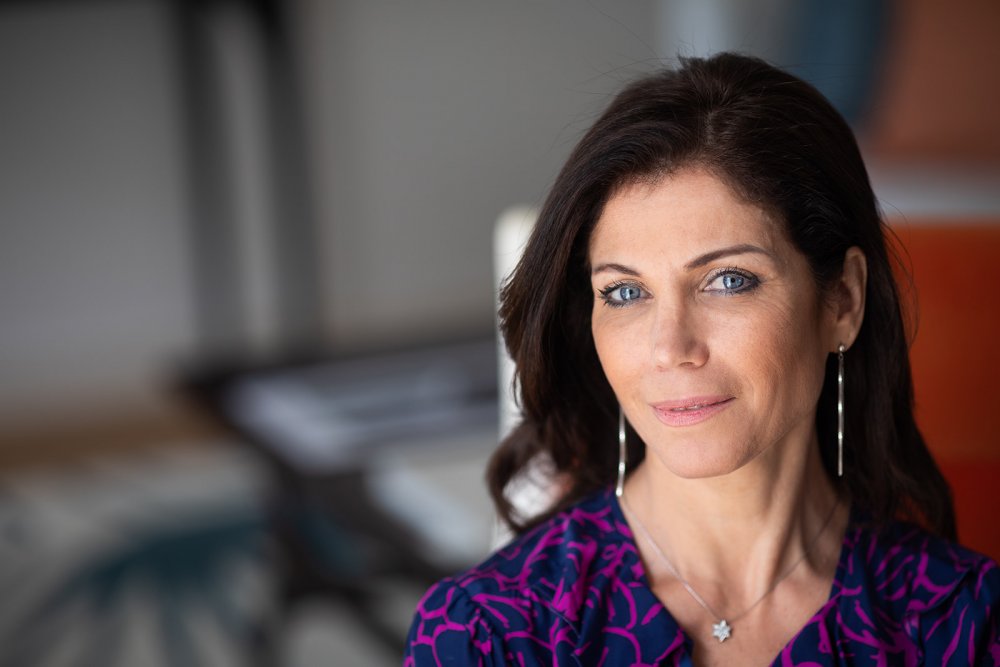 Introducing Stephanie Uman
There are so many wonderful people behind the scenes at The Norman, working so hard tirelessly spinning The Norman magic. We feel extremely lucky to have welcomed Stephanie Uman aboard as the Sales & Marketing Director.
Originally from France, Stephanie has a wealth of extraordinary experience working at some of the leading international hotel brands in the sales and marketing fields. Stephanie also has a strong background in launching hotels from the ground up, so has implicit, first-hand knowledge of all aspects of our business.
Stephanie effortlessly settled into the position of Sales & Marketing Director at an awkward time, just before the pandemic. However, we are grateful to have had her on board calmly & confidently helping to steer us through the crisis, ensuring all our cancellations were implemented quickly and smoothly. We are equally thrilled to have her on side as we develop No. 22 and grow the brand.